.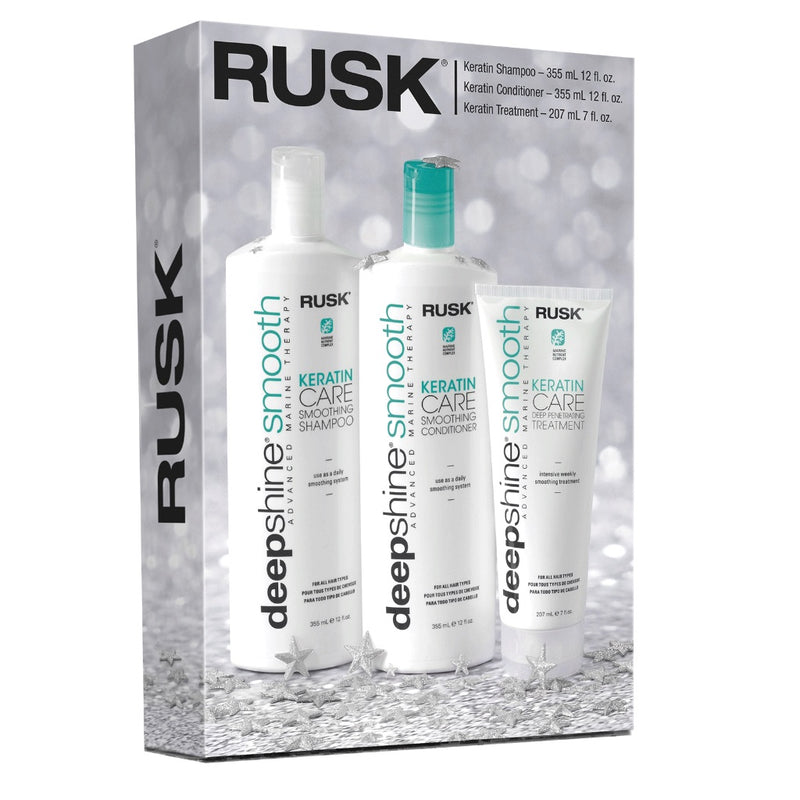 Deepshine Keratin Care Pack | Rusk
Contains:
1 x
Keratin Care Deep Penetrating Treatment
| Rusk
1 x
Deepshine Keratin Care Smoothing Conditioner
| Rusk
Rusk Deepshine® Smooth Keratin Care Deep Penetrating Treatment is an intensive conditioning treatment recommended for chemically and colour-treated hair. It's formulated with natural keratin, vitamins and nourishing marine botanicals to improve the strength of the hair. Deepshine® Smooth Keratin Care Deep Penetrating Treatment leaves hair smooth, shiny and in luxurious condition.
Key Benefits:
Instantly nourishes and replenishes moisture
Helps to restore hair's elasticity, strength and vibrancy
Natural keratin proteins and amino acids restore shine.
All formulas are sodium and sodium chloride-free making them safe for use on chemically and colour-treated hair.
This maintenance system is perfect for anyone who has had a keratin smoothing treatment or chemical straightening service.
These products strengthen and repair the hair; restore elasticity; lockout humidity; and improve overall texture and condition, leaving it smooth and shiny.
Delivery Timeline: Your product will be delivered in 3-4 Business Days after the order has been placed.
Returns Policy
We will gladly accept any unopened product in its original packing within 7 days of delivery. On returns, we reserve the right to send you a replacement or give you equivalent store credit/ refund. Please allow approximately 1–2 weeks for processing. Additional processing delays may occur. You will receive an email notification when your return has been processed (be sure to check your spam folder)
Does not apply to gift cards
For more information on Returns and Refunds please Click here!