.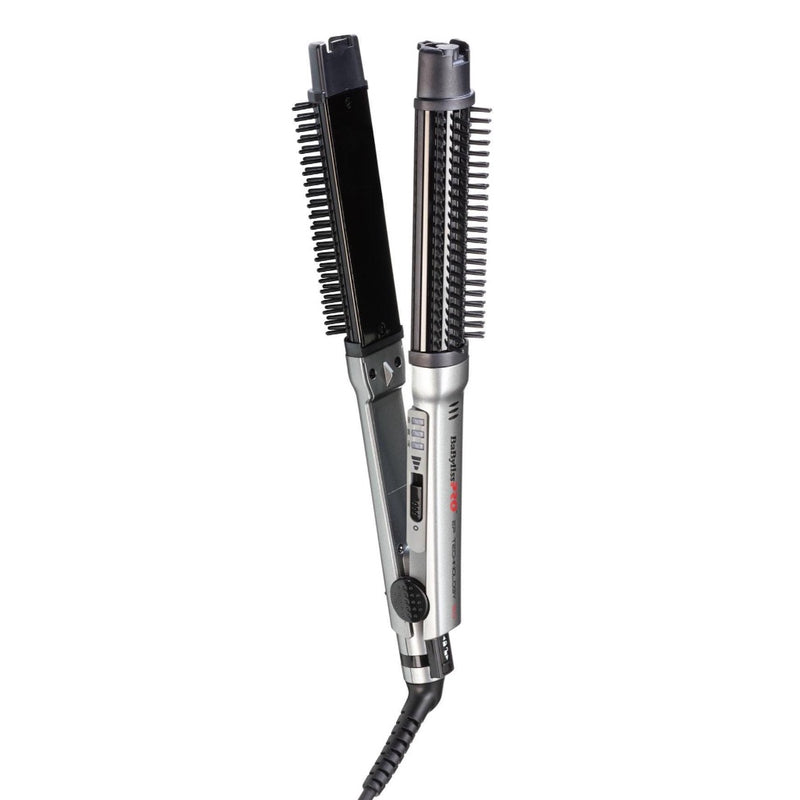 Hybrid Hot Styler | BaBylissPro
Open to straighten, Close to wave or curl.
This versatile tool is provided with the best in terms of plates technology for perfect and long-lasting straightening results, as well as in terms of heating element for an even surround heating.
Its double lock-in function offers optimum safety while working in closed position and maximum control.
Hard bristles get easily and gently inside the hair.
To style hair ends, bend or flip. To create volume, lift at roots and looser waves.
Best for short to medium length hair.
Features
• EP TECHNOLOGY 5.0
• 32mm wide plates
• 32 mm diameter when brush is in closed position – hard bristles
• Advanced Heat Management System™
• Temperature selector – 3 settings (170°C – 200°C – 230°C) with indicator lights
• Surround heat
• Double lock-in function (front and rear)
• On/off switch
• Easy hold cool tip and thumb rest
• 2.70m swivel cord
• 68 W
EP TECHNOLOGY 5.0
This is a very technical process similar to what is done in jewelry which consists in getting a layer of micrometric particles by electroplating.
> no friction for even more smoothness
> no chemical agents for better resistance to high-heat
> even heat distribution all through the plates
For plates:
1. 3 x harder & longer lasting
2. 3 x smoother
3. hard-wearing to chemicals
4. lasting & perfect straightening
5. hair respected & sublimated
For perfect, long-lasting results:
· preserves the integrity of the hair
· hair is soft and shiny
· even heat distribution makes faster styling results that last longer

For intensive professional use:
· perfect resistance to wear-out, chemical products and high-heat
· even smoother plates
· time and energy savings
Advanced Heat Management™ system
The styler integrates the latest self-regulating heating element, the Advanced Heat Management™, which gives accurate and continuous electronic control of the temperature. Because of this technology, the unit offers immediate heat-up, a very high temperature, temperature stability to the nearest half degree and very quick reaction and recovery times.
Perfect results
The hi-tech heating element provides even heat distribution all through the plates. The three indicator lights will blink until the tool has reached the selected temperature. The temperature control from 170°C to 230°C lets it to be used on any type of hair from the most fragile to the most difficult one, from the thinnest to the coarsest one.
Ecofriendly 
> 68 W during the stabilization phase for energy consumption saving.
Delivery Timeline: Your product will be delivered in 3-4 Business Days after the order has been placed.
Returns Policy
We will gladly accept any unopened product in its original packing within 7 days of delivery. On returns, we reserve the right to send you a replacement or give you equivalent store credit/ refund. Please allow approximately 1–2 weeks for processing. Additional processing delays may occur. You will receive an email notification when your return has been processed (be sure to check your spam folder)
Does not apply to gift cards
For more information on Returns and Refunds please Click here!