.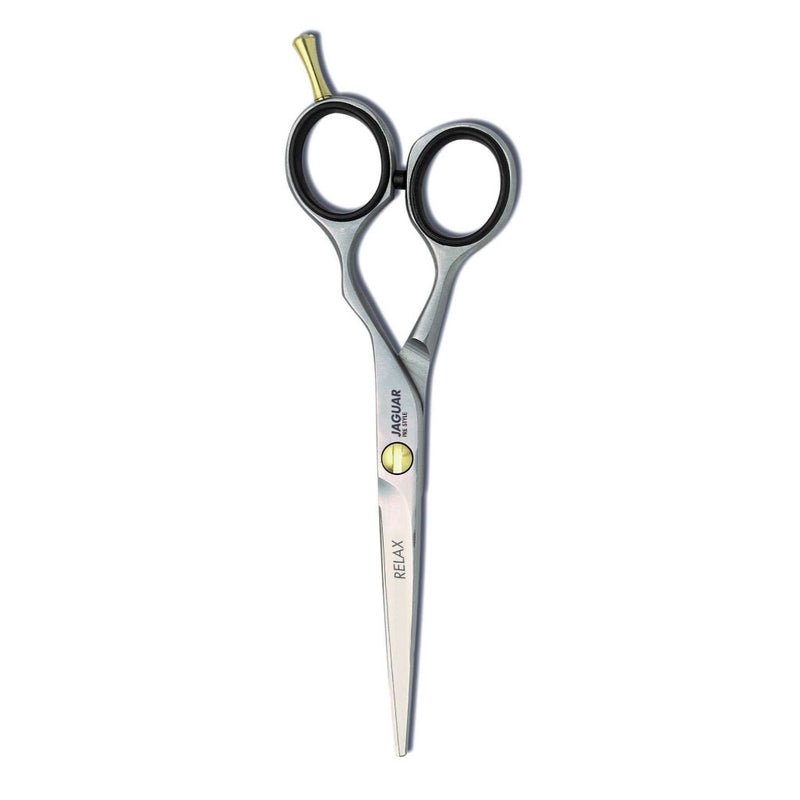 PreStyle Relax (5.0 inch, 5.5inch) | Jaguar
Professional hair cutting shears features an offset design with an ergonomic handle for relaxed working for salon stylist, beauticians, and barbers
Both cutting edges these professional hair shears come with a satin polished finish.
MICRO-SERRATED: Classic blades with a flat cutting edge angle for excellent sharpness. German-style edge with micro serrations on one blade avoids slippage of the hair.
MOVABLE THUMB RING: The movable thumb ring follows the natural movement of the thumb during hair cutting and ensures total relaxation. Individually lockable in any position.
COMFORTABLE: Short, downward angled thumb handle for ergonomic working posture and a relaxed-feel while cutting. Arm, neck, and shoulder muscles remain relaxed. Also, the angled thumb ring reduces friction and pressure marks and gives secure control of the shears. Haircutting becomes even more pleasant and comfortable.
| | |
| --- | --- |
| HANDLE POSITION  | Offset  |
| STEEL  | Stainless chromium steel  |
| WEIGHT  | 36g  |
| SPECIAL FEATURES  | Finger support surface, Removable finger rest  |
| CUTTING EDGE / BLADE  | Micro-serration  |
| | |
| --- | --- |
| LEFT-/RIGHT-HANDED  | Right  |
| SCISSORS SIZE  | 5.0,5.5inch,6.0inch |
| COLOR  | silver  |
| PRODUCT SURFACE  | matt  |
| SCREW CONNECTION  | Vario  |
Delivery Timeline: Your product will be delivered in 3-4 Business Days after the order has been placed.
Returns Policy
We will gladly accept any unopened product in its original packing within 7 days of delivery. On returns, we reserve the right to send you a replacement or give you equivalent store credit/ refund. Please allow approximately 1–2 weeks for processing. Additional processing delays may occur. You will receive an email notification when your return has been processed (be sure to check your spam folder)
Does not apply to gift cards
For more information on Returns and Refunds please Click here!