.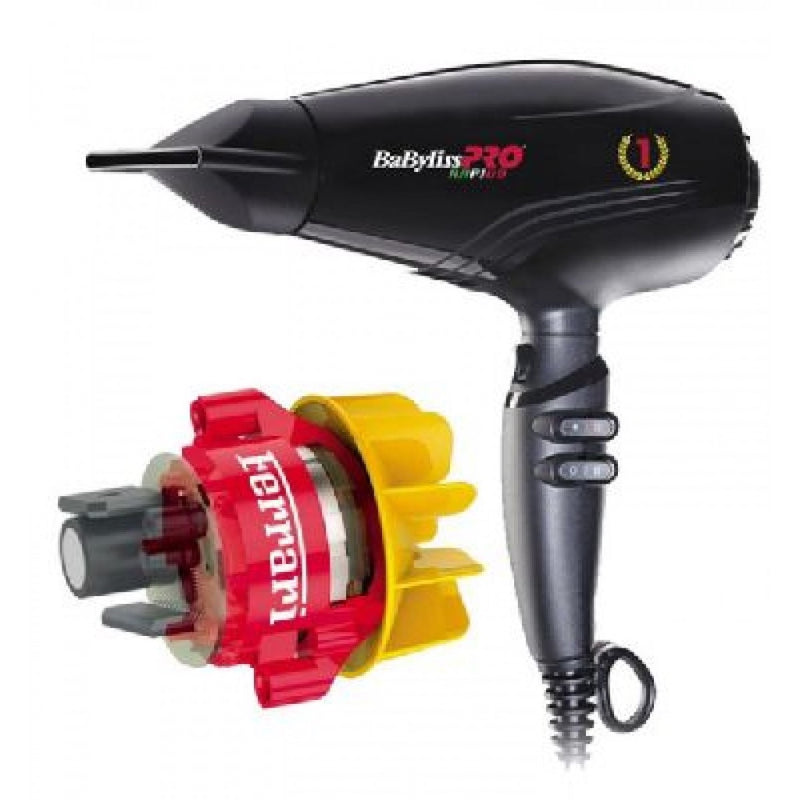 Rapido Dryer (2200W) | BaBylissPro x Ferrari
Features :
Weight: 399 grams
2200 Watt
Engine designed by Ferrari
Ergonomic shape
Cord of 2.8 meters
Extremely fast drying time
12 temperature and speed settings
Including Silencer (less noise)
Includes 3 nozzles (60mm, 70mm and 75mm)
EDM TECHNOLOGIE 5.0
Electronics Drlven Motors

> Faster revolutions than a traditional motor
> Greater compactness and reduced weight
> 5,000 hours lifespan
> No carbon brush
- Significantly improved energy yield
- No carbon residue emission: no air pollution

12 speed and temperature settings - Cool air button
True ion generator emits millions of negative ions to
eliminate frizz and seal the hair cuticles for shiny, healthylooking
hair.

Perfectly shaped grip along the axis of the centre of gravity
> guarantee of a balanced and comfortable hold without tension in the forearm
2.80 m tangle-free power cord

Accessories :
The BAB7000IE creates healthy-looking hair!
NOT ALL HOT AIR IS THE SAME…
• Silencer included
• Diffuser included
• 3 concentrator nozzles:
> 4 x 70 mm ultra-thin nozzle for optimal, controlled air pressure and even
more efficiency.
> 6 x 60 mm straight, narrow nozzle that is perfect for straightening because it
lets you achieve the required tension on the hair.
> 6 x 75 mm beveled, large nozzle for smoother blow-drying; it is slightly
diagonal in shape, hugging the shape of the brush perfectly.

The BAB7000IE creates healthy-looking hair!
Delivery Timeline: Your product will be delivered in 3-4 Business Days after the order has been placed.
Returns Policy
We will gladly accept any unopened product in its original packing within 7 days of delivery. On returns, we reserve the right to send you a replacement or give you equivalent store credit/ refund. Please allow approximately 1–2 weeks for processing. Additional processing delays may occur. You will receive an email notification when your return has been processed (be sure to check your spam folder)
Does not apply to gift cards
For more information on Returns and Refunds please Click here!